December was an exciting and lovely month for me. I love December in general, everyone's happy, christmas isn't far and everything seems magical to me.
December started off quite normal. In the second week of December it was my birthday!! I had a lovely day with friends and family. I'm so thankful for all the gifts and lovely wishes I received. We went to a great italian place in the evening and it was such a blast. And to top it of my best friend and I went to HAMBURG the following weekend. It was the first time I got to travel on my own with a friend. We had an amazing time; shopping, exploring the city, eating and spending time at the various christmas markets. Honestly I can only recommend going to Hamburg or any city in Germany during christmas time, the christmas markets are breathtaking and totally worth visiting!! We had a quite simple but nice and clean Hostel right by the main station. For one night it was perfect and the price we paid was a great deal. It's called the
Generator Hostel
and I can really recommend it to young people with a smaller budget for a short stay. The people were really friendly and the underground stations was on the opposite side of the road. We had a double room with to separate beds and a small bathroom, including a shower, sink and toilet. Shopping in Hamburg is great it has a nice shopping center the
Europa-Passage
, which was decorated so lovely and there are even more close by (Neuer Wall). We obviously visited the port ( it was so windy), the warehouse district with all the brick buildings and the Elbe Beach were all the rich people life. I guess there are much more things to explore but I think as we only stayed there for two days the things we saw were just right. For lunch the first day we ate a delicious salmon sandwich from the market (typical Hamburg), for dinner we went to
Jim Block
a great place for delicious burgers and the next day we ate in a restaurant in the Europa-Passage, it was a Thai restaurant were you could pay 18 Euros and eat from the buffet as much as you like. By the way Germanys so cheap compared to other countries and cities I've been too. Yeah it was a great time, I'll never forget.
Take-off on our way to Hamburg
Up in the sky, beautiful sunrise
Port in Hamburg
Warehouse District
Christmas Market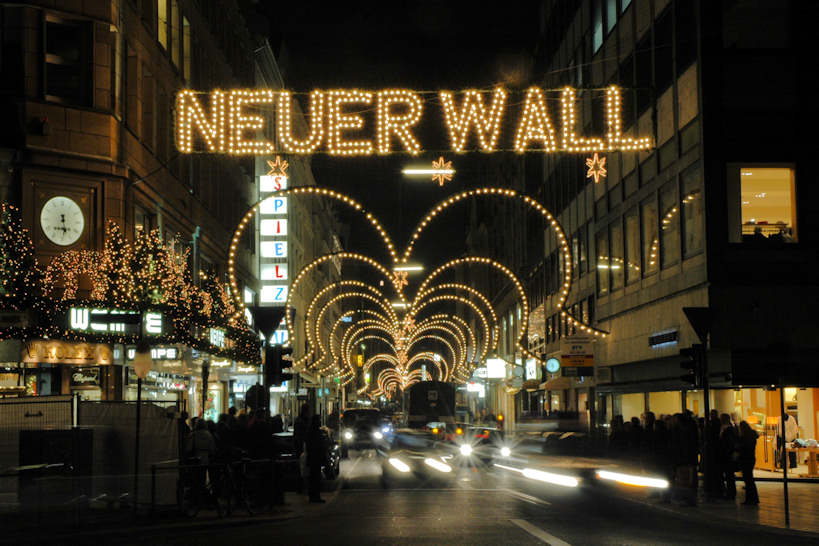 Shopping Area Decorated with Christmas Lights
Europa-Passage
Elbe Beach
Then came along christmas. We had a happy christmas eve and a even happier christmas day with unbelievable weather!! It was 10 degrees and the sun was shining which is a rarity were I live. In the morning we opened our stockings and then went down to open the rest of our presents. This year I didn't ask for anything particular but my family knows me well and I received such amazing and thoughtful gifts. For lunch we had a fabulous turkey with stuffing and everything you can imagine my grandma made and for dessert we had trifle. In the afternoon we all chilled in our onesies and later on went for a walk.
After that we went skiing for a few days but sadly due to the warm weather there wasn't much snow. But we still had a great time in the mountains.
New Year rolled around and I celebrated with a group of friends. We had a funny evening and night!! Happy New Year to all of reading this, may 2016 be a great and unforgettable year.
My New Years resolutions are...
...to save money to go traveling.
...to meet new people.
...to be true to myself.
...to be a bit more brave and adventurous concerning my style and really just wear what I like.
...to visite an openair festival.
...to love life.
...to follow my dreams.
Lots of love
Kyra xoxo